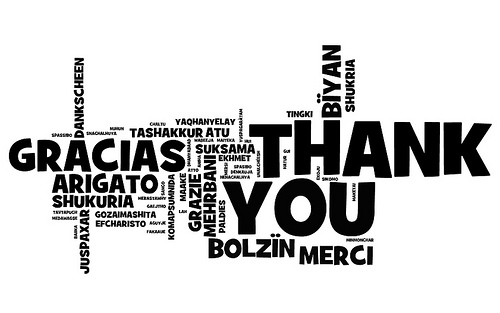 Too many people think that writing a Thank You letter is optional. Well it's not. It's the final piece of the interview and can make a positive lasting impression that might make the difference between hiring you and another candidate. Here are some myths about Thank You letters:
Thank You Letters need to be Hand Written
Thank You letters DO NOT need to be hand written unless you think because of the culture in the company it would be appropriate. I nice touch is to follow-up with a handwritten note after you find out that you were not the successful candidate. I once received a very creative and colorful Thank You note after I told a candidate that they did not get the job. The note was short and he just thanked me for the opportunity to interview and hopes that I keep him in mind if another similar role opens up in the future. The note was very nice and something I wanted to post on my cubicle wall. When another similar job did open up not only did I immediately think of this candidate but I tried my best to get him hired (knowing that he was a good and qualified candidate).
Thank You Letters via Email
The recruitment process can seem long to a candidate because you are eager to hear back from the recruiter but in reality it's not. By the time you write a Thank You letter and then use snail mail to deliver it the recruitment process could already be finished. The point of a Thank You letter is for you to make an impression on the recruiter/hiring manager and company so hopefully they pick you over the other candidates. Many people think because emails are convenient to send that it makes them less personal. Just like your cover letter your Thank You letter should be unique to each job/company/interview. Generic notes don't leave the right impression. Make it personal by expressing why you want to work for the company and make sure you thank and address all the people that were in your interview.
Proof Reading
Just because you felt that you had to send this letter quickly after your interview does not make spelling mistakes or formatting issues acceptable. Be careful if you copy/paste from a document into email. The result can be a very wonky. When you copy/paste from Word it often does not include the formatting unless your email program is set in a specific way (usually an HTML setting).
Timing
I know that once you get home from an interview you are exhausted but you have to sit down and write your Thank You letter. Not only will this make sure that you don't forget to send the letter but since you just returned from the interview your memory of the role and experience is fresh. Some people can have a few interviews lined up for each day of the week and that's why it's important to have written down the interviewers names and titles and send them a Thank You letter within the next two days.
At the End of the Day
One good way to separate yourself from other candidates is to write a Thank You letter. I don't care if you think it's cheesy/corny and the recruiter won't care or pass it on to the hiring manager – just write it! It's the final impression that you're going to make and it might be one of the reasons they decide to hire you. Most candidates don't follow up with a Thank You letter so why not prove that you're smarter than most candidates. The point of the Thank You letter is for you to thank the company (recruiter/hiring manager) for showing interest in you and taking time out of their schedules to meet with you. You want to remind them that you have the qualifications they are looking for and that you are passionate about the job. If you thought of something that you forgot to mention during the interview then mention it in your letter. This is also a good time to provide any information that the employer may have asked you to provide after the interview such as a list of references.
You may also be interested in:
How to Write Perfect Thank You Letters
101 Ways to Say Thank You: Notes of Gratitude for All Occasions
The Thank You Book: Hundreds of Clever, Meaningful, and Purposeful Ways to Say Thank You
Photo by woodleywonderworks
Are you looking for a job or have a referral? Check out the job board for job opportunities and I pay a generous referral bonus 🙂
Contact me for more information.
Do you think your resume could look better? Check out the services page.