Recruiter, Traveler, Mother and Blogger
My name is Dorothy and I'm a Virtual Recruiter and HR Consultant.
I've been an HR girl for over 14 years now and I've worked in many different industries and helped small, mid-size to large companies. I really, really LOVE what I do.
Here's a little more information on my HR career:
I have experience dealing with many great areas of HR Management such as Workforce Planning, Recruitment, Compensation, Employee/Employer Relations, Benefits, Health & Safety and Business Management.
I recently finished a 2 year contract with the Toronto 2015 Pan Am/Parapan American Games Organizing Committee where I forcasted/validated, recruited, trained, and scheduled the number of staff required to deliver the Games. I was also a Workforce Operations Manager for the London 2012 Summer Olympic Games and prior to working at LOCOG, I was responsible for hiring the really great people who put on the Vancouver 2010 Olympic and Paralympic Winter games.
Some fun facts about me:
Since March 2010 my husband and I have traveled around the world. Together we have travelled around Europe, lived in the Philippines, and explored Australia and some of the USA while living in a van/RV. We recently had baby #2 and we bought our first home. It's been another busy year.
Not enough you say?
Here are a couple of random details about me:
I can guarantee everything I post on this site will have an error in it even though I read it over 20 times.
I own a 12 year old Wheaten Terrier, Pomeranian, Poodle. Her name is Pepper and I love her more than goat cheese. I would have said bacon but I'm a vegetarian.
My most favourite sound in the world is the sound of my daughter eating. She hums and smacks her gums as she chews. It's adorable.
I LOVE cleaning! Especially laundry and vacuuming. It's like therapy for me.
I LOVE to cook. I love to be healthy but I also LOVE chocolate. So that means I need to workout a lot.
My friends love me because I'm a straight shooter. If you ask me if you look fat in your jeans or if your baby is cute I will tell you the truth. You've been warned.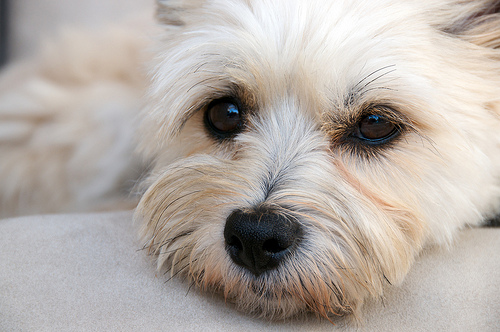 Hire Me
If you're looking to add a Virtual Recruiter to your team please contact me via the form at the bottom. As a Virtual Recruiter I possess the qualities and qualifications to function as both a corporate HR business partner or skill set oriented headhunter. I have a well equipped home office and the right technology to stay connected and accessible to clients and candidates.
Ask Dorothy!
I've started an "Ask Dorothy" section of my blog and here is where you can ask me anything (within reason) about your interview issues, the recruitment process, the recipes I post etc. Maybe you just had a great interview but never got called back. Maybe you think you have a great resume but you're not getting the interviews you want. Maybe you don't know if you're answering a common interview question correctly. This is where I can help. I can provide you with an objective viewpoint that hopefully helps you become a better interviewee, employee and job seeker.
Follow Me
You can follow me on twitter here or find me on linkedin.
Contact Me
dorothyrawlinson@gmail.com