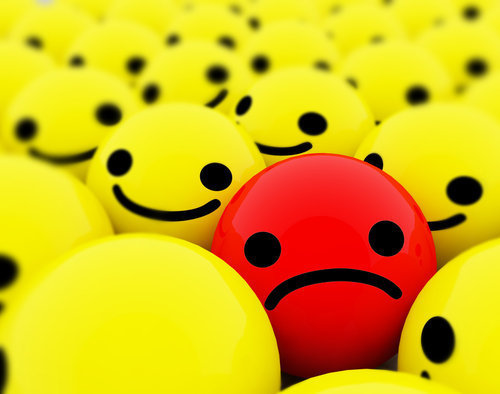 Choose to Be Happy
If you're not happy, do something about it. If you're happy, then keep doing what you're doing. It's that simple. If you need help then here are the Top 10 Ways to Be Happy at Work. If that doesn't help then do something different and stop complaining. Take control of your life.
"You should *have* an experience; it shouldn't just *be* an experience."
― Alan Cumming
Past
I wasn't happy and in 2007 I quit my job that I had for almost 5 years. I had a great pension, good salary yada yada yada…but I wasn't happy. I was 21 when I took my first trip and I visited a friend in Shannon, Ireland. That trip changed my life. I knew that I wanted to make traveling a more important part of my life. I then visited Cuba, Germany, Amsterdam, Jamaica, New York…and then one day I just stopped traveling. I got too busy with work and life and forgot about something that I LOVED.
Later in 2007 I found myself in a new province, single, unemployed and living in a basement apartment with my dog Pepper. I had school debt and credit card debt to keep me company 😉 I always stayed positive and was confident that things would work out. I soon found a job, which I quit to then find another job recruiting for the 2010 Winter Olympic and Paralympic Games. I was so HAPPY!
Present
Moving to a new city in a new province was a hard decision but a decision I knew I had to make. I sold and got rid of all my stuff i.e. apartment, furniture, and stuff I never used that was in storage. I started a new less cluttered life, paid off my all my loans (debt free!) and found a boyfriend who not only loves me but also loves to travel.
I LOVED working for the Winter Games even though it was extremely stressful at times. Before my contract ended with the Games my boyfriend Duncan and I were planning an epic trip around the world together. This is something we both wanted to do and we didn't have anymore excuses not to.
2010-2011
Duncan and I just returned from this trip around the world. We traveled by trains and airplanes in Europe and slept in over 20 hostels. We rode catamarans and motorized pedicabs, or tricycles in the Philippines and stayed at the greatest resort: Frendz. We bought and lived in a Toyota Hiace Van named Gerty and traveled over 30,000 km around Australia where we met the most amazing people. We had an amazing time but most importantly we didn't end up killing each other 🙂
Here are photos from Paris, Philippines and Australia:
I learned a lot about myself in the 14 months of our travels. I realized what was important to me and that working in a cubicle was not something I wanted (at least for right now). We both wanted to keep traveling and being mobile so we embraced nomadism. Duncan runs a photography school, make mixtapes, shoot photos, does occasional consulting work, some writing, and a few other fun things.
Summer 2011
After living in a van for almost a year it was so nice to visit with our families. For summer 2011 we were able to come to Ontario, Canada and stay in the 1000 Islands. Going to bed and waking up to the sound of Loons and seadoos is just awesome. We both love being close to water and had so much fun meeting and playing with our two gorgeous nieces.
I worked on my website and was able to provide a lot of people with interview advice, makeover resumes/cover letters and help people land interviews and most importantly receive job offers. It makes me feel really good that people are learning how to be more confident and becoming active job hunters. Plus I was able to finally make a job board that showcases the roles that I am actively recruiting. I really LOVE being a recruiter.
You're Never too Old to Try something New
While I wasn't working on my blog, creating a resume for someone, or recruiting I was learning how to wake board. This is something I never really thought I wanted to learn but all of a sudden (after I saw Duncan doing it ;)) it was on my bucket list. When I was younger I learned how to swim but was never really introduced to other water sports. I did try surfing when I was in Byron Bay, Australia so I thought since I can get up on a surf board I could get up on a wake board.
Getting up turned out to be extremely hard. The handle was getting ripped out of my hands once the boat picked up speed and I thought maybe I just wasn't strong enough.
Here are some photo's of my first attempt:
It took me 3 days of trying to even get up on the board. I am so glad to have such patient friends to put up with me. In any case I kept on trying. I was so sore every morning but my goal was to get up. I was so close and I really believed that I could do it.
Well on the third day I finally did it!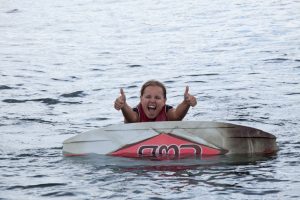 Future
We bought a Winnebago View and we're getting geared up for our full-time North American based nomadism. We need to buy a lot of things for the RV like a comforter, plates, pots and pans etc. It's like furnishing a new apartment 🙂 We are both also pretty excited to visit some of our friends and family who are in New York, Florida, Virignia, LA….and not to mention attend some cool events like SXSW, World Domination Summit, and Burning Man.
Our new home, which we named Belle 🙂
I am so excited about our trip and a little nervous too. I can't thank Duncan enough for pushing me to try working virtually/remotely because it has really allowed us to live our lives the way we want. I don't know how long we are going to like living out of a RV but I do like the idea that we are trying something different.
At the End of the Day
I wasn't happy and did something about it. I moved away from my family and friends and started something new. I was scared but always knew that things would work out and be better than before. You can't be afraid of change and you should not keep putting off goals. I couldn't believe that I could learn how to wake board in my 30's. I thought backpacking around Europe was only for 20 somethings. I didn't think that I could live in a van without a washroom or shower for 10 months. If you want to be happy you need to start taking control of your own life. You are the one who will gain the most when you chose to continue to develop so take charge of your own personal and professional life.
Are you looking for a job or have a referral? Check out the job board for job opportunities and I pay a generous referral bonus 🙂
Contact me for more information.
Do you think your resume could look better? Check out the services page.