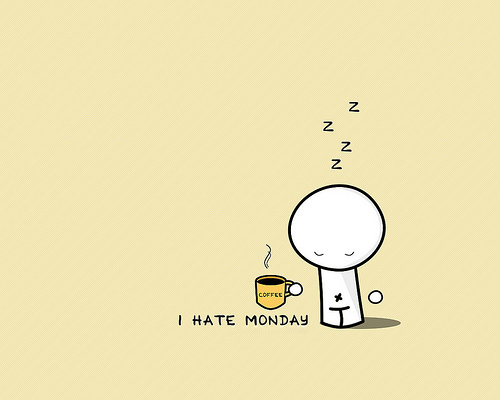 Photo by: tableatny
Work and Life Balance
What makes a good employer? It used to be great pay and health benefits but nowadays that's not enough.
As a recruiter I see many people come and go and for all sorts of reasons. So what can employers do to reduce attrition and have happy employees who actually look forward to Mondays. Well maybe look forward is stretching it 😉 The answer is work and life balance.
Companies need to realize how important this is because it can be very costly if they don't. If you don't try to promote work and life balance then you have to deal with turnover, morale issues and maybe even increased health cost due to poor employee health.
Take Work Home
When I worked for VANOC the majority of employees received laptops. Not only did I love the fact that I had the option to work from home but I even noticed that when people were off sick they still managed to do some work. I found that I was more productive at home and was able to do more phone screens and screen more resume because I did not have office distractions like water cooler chit chat.
Take Home to Work
A lot of people are looking for babysitters and like me I'm always looking for dog sitters. Having daycare or allowing pets to come to work would allow a peace of mind for employees. Employees would not need to rush out early to pick up their kids (or dogs) and or be late from dropping them off.
A Healthy Workplace
Most of us work at a desk job and more specifically a cubical. This lifestyle can be hard on the body because the busier we get at work the less time we have to go to the gym and the easier it is to grab some junk food from the vending machines.
Having a fitness area for employees allows them to grab even 30 minutes of excercise on cardio and weight machines, which can positively effect peoples moods and increase their energy. Helping employees workout at work is beneficial for any company because it lowers medical costs and provides a place where employees can destress. You can read more about how "People who exercise on work days are happier, suffer less stress and are more productive" from the Daily mail.
The most important part is for the company to really encourage people to use the gym. If the company is promoting it well people will feel less guilty scheduling time off in their always busy calendars.
Make Work Fun
A lot of people also say that they would not leave there current workplace because of the relationships they have made at work. It makes all the difference in the world when Managers or co-workers recognize employment anniversary, birthdays and the arrivals of new family members.
At every company I have worked in I would make it a point to write down my coworkers birthdays. I would then decorate their desk with balloons, curly ribbon, bring cake, and flowers. I have even been known to bring in a tiara for some people. Personal touches like this creates strong relationships which in turn creates strong working relationships.

Here is an example of a birthday card I made for a coworker.
Having an employee lounge with t.v., air hockey tables, pool tables, fooseball etc is also a great idea. This allows some friendly competition and a much needed break in the day.
Being surrounded by grey/white cubicle walls is boring. An office is so much more fun when people can decorate their office space for the holidays. Here are some steps on How to Decorate Your Office or Cubicle at Work from ehow.com
A another great idea is to have departments compete in who has the better decorated office space. This let's people get creative and makes coming to work a little more fun knowing you are surrounded by family pics and some much needed colour.
Support Employees
Companies need to take the time to create environments that can effectively support employees and promote work and life balance. This doesn't happen over night but if done right creates a happy employee who wants to come to work. An employee who is happy and wants to come to work is the best recruiter.